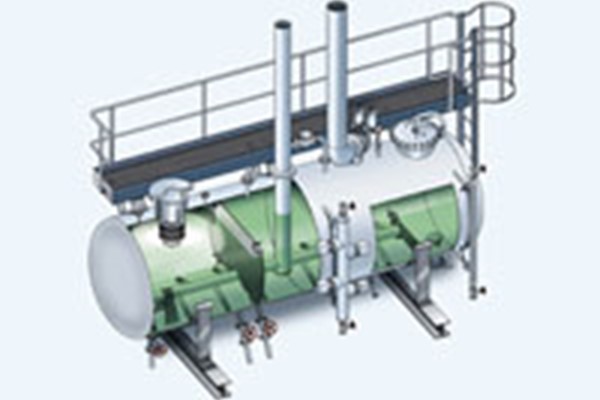 In deaerators being manufactured by Dutch company STORK Thermeq, condensate is delivered directly to feed water tank by means of special-design sprayer. Here is "know-how" of Stork – undisputed leader among high-quality deaerator manufacturers. No doubts, tens of years of experience helped STORK to develop their own, field-proven technology.
Main advantages of STORK technology, in comparison with classic dome-type deaerators:
significantly lower concentration of O2 in deaerated water (even up to 5 ppb.),
wide operating range (from 10 up to 110% of rated output),
robust design allowing rapid load changes,
compact size (classical deaerating dome is redundant),
high reliability and availability (practically no ware parts),
possible deaerating media: (superheated) steam, steam-water mixture, hot water etc.,
limited vent losses,
possible retrofit of old type/classic deaerators,
wide output range: from 10 up to 6000 ton/h (and more).
A more detailed comparison of the features of the STRK deaerator with a classic deaerator can be found here.
So far, STORK's reference list described over 1100 units, delivered all over the world, including 17 from Poland.
In recent years (2014-2016) Stork has delivered their deaerators to largest Energy producers in Poland, i.e.:
Kozienice Power Plant – 1075 MW unit (length of the deaerator: 75 m, read more -

 

here),
Opole Power Plant - 2 units, each with 900 MW,
Jaworzno Power Plant – 910 MW unit,
as well as Zofiówka CHP, Tychy CHP and Zabrze CHP.
Another example of STORK presence on Polish market was retrofit project in Ciech Soda Polska of 2 classic dome type deaerators and their conversion to a STORK-type (read more - here).
In order to get a quotation for a deaerator please fill up our questionnaire (excel / pdf) and send it back to us. We will get in touch with STORK and come back to you with an offer ASAP.